A little before 10:30 AM ET in New York, the Patek Philippe ref. 5711/1A-018, with a Tiffany & Co.-signed dial, hammered for $5,350,000, with an all-in price tag of $6,503,000. This was a last-minute addition to the auction – announced earlier this week – with all proceeds from the sale benefitting the Nature Conservancy. This was the first live watch auction hosted by Phillips in New York in two years, and the first live watch auction in the company's new space at 432 Park Avenue. We were in the room, and here's what we saw.
Aurel Bacs presided over the podium for precisely 14 minutes and 39 seconds. Bidding started at – a yes, laughable – $20,000, where it then jumped to $50,000 (retail price), and then to $500,000, which I believe was the previous record for a steel 5711. Tiffany To in London brought bidding up to a million bucks, and then we saw bidding increase in $500,000 increments, all the way up to $3.5 million. Bidding began to slow, ever so slightly, around four million, edging upward in $100,00 increments.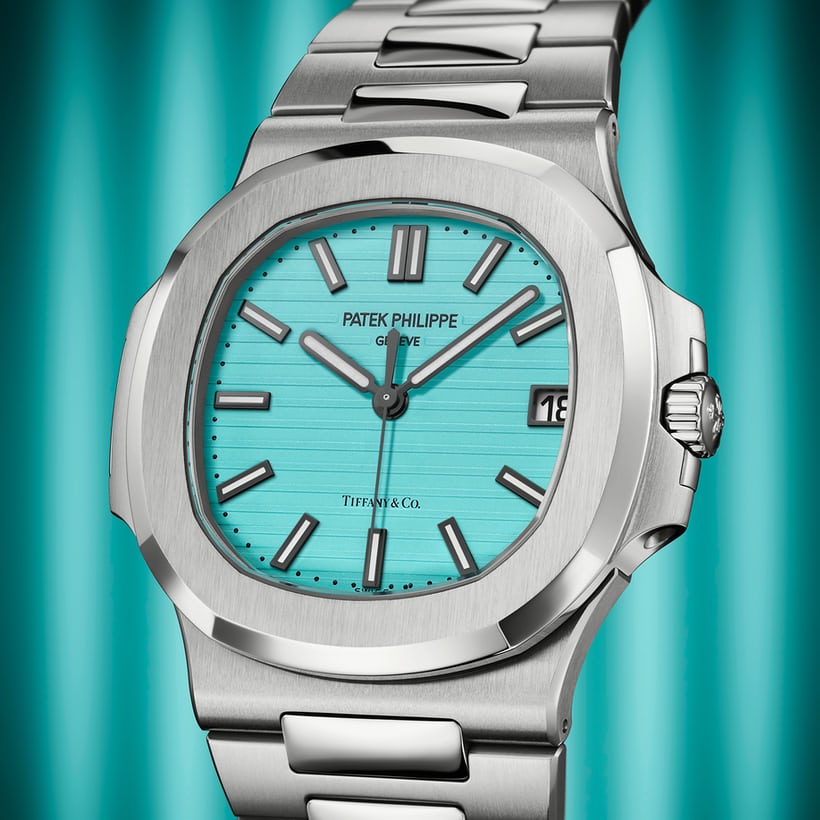 At this point, a battle began to brew between phone bidders represented by Phillips specialists Clara Kessi and Marcello de Marco, until it hit the five-million mark. Then an in-the-room collector named Zach Lu jumped in, with the bidding beginning to move in $50,000 increments. Clara's bidder almost won – with Aurel's gavel in the air – before a New York online bidder shocked the crowd and jumped the price up to $5,250,000. A UK online bidder took it to $5,300,000, before another New Yorker online – paddle number 9252 – won it all, at $5,350,000. Sold!
Add in the auction premium and you get a final, all-in price of $6,503,000 – making it the eighth-most expensive watch at auction ever.
Also read: Germany-based Tanzanian Model Catherine Scott On Choosing Brand Collabs
So is this all insane? I don't think so. Upon its release this past Monday, the watch proved instantly polarizing. Some fans loved the look and the Beyonce-level surprise of the drop. Meanwhile, skeptics saw the Patek Philippe ref. 5711/1A-018 with Tiffany & Co.-signed dial as a hype-watch – a Veblen luxury product whose deliberate un-obtainability represents all that's wrong with today's timepiece market. The caseback text took a particular beating. Reasonable people can disagree about the watch's aesthetics and its place in the market, but this piece and its auction raised more than six-and-a-half million dollars for charity – plus a hell of a lot of attention for the watch industry that wouldn't have happened otherwise.
This sort of thing just didn't happen five, 10, or 15 years ago. For many of us who are priced out, that's a drag. But I would like to reiterate that all proceeds go to the Nature Conservancy. And unlike Only Watch, a premium is included on the final price tag. Phillips, Tiffany, and Patek made exactly zero dollars off the sale of this watch.
I'd also like to point out something that was lost in all the discussion over the past few days. All 170 examples of the 5711/1A-018 are to be distributed solely at Tiffany & Co. in the United States, and only at the Tiffany & Co. boutiques in New York, Beverly Hills, and San Francisco, where Patek Philippe is sold. It absolutely does not matter how much money you've spent with Patek Philippe anywhere else. So you can imagine that there have been a lot of upset collectors this past week who live in Hong Kong, the UAE, and London. I think that was a major factor in driving the price up, even if it ended up being sold to a New York-based online bidder.
I think there's something fitting about this result. New York City was the birthplace of the Tiffany & Co. and Patek Philippe relationship. It's only natural that the last – and the most expensive – Nautilus 5711 ended up there.