In Partnership with Condé Nast International Luxury Conference
It's happening. The premier fashion and luxury conference in the world will be happening in South Africa. Condé Nast International is yet to release more details but still we cannot help it but beam with excitement. This is especially important for me as a publisher; the world will converge in one of the most culturally dynamic continents.
This is a dream come true for many African industry insiders, business heads, lead designers, entrepreneurs, publishers and many fashion and luxury industry stakeholders.
The 2018 edition of the Condé Nast International Luxury Conference took place at Pátio da Galé in the heart of Lisbon, Portugal, on 18-19 April 2018. It brought together 500 business and creative leaders from the global luxury and fashion industry. It included a mixture of stimulating and relevant keynote speeches, panel discussions, and interviews – together with social events of the highest quality.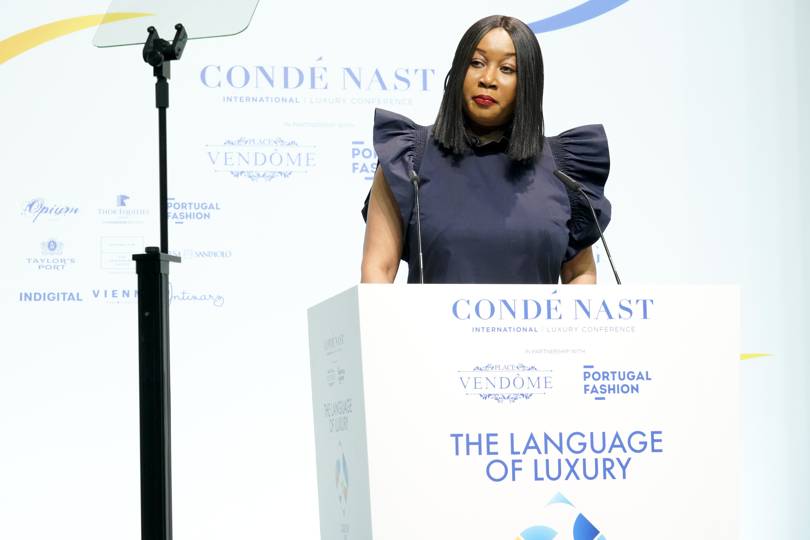 To preview the talent pool for the 2019 conference, Suzy Menkes invited Vania Leles, founder of VanLeles Diamonds, and Uche Pézard, CEO of Luxe Corp and Founder of Luxury Connect Africa to take to the stage in Lisbon.
They shared powerful stories on their success journeys in their respective careers.
Vania Leles is a London based jeweller. Originally from Guinea Bissau, the widely acclaimed Gemologist had an upbringing in Portugal. She now sells her jewellery globally. Her ethically sourced products and her deep connection to nature and her motherland Africa makes the VanLeles Diamonds brand stand out.
She was mentored by Laurence Graff, worked at De Beers and Sotheby's before setting out to be an entrepreneur in her own right.
"There's an authenticity and honesty in the story of why I became a jeweller," she said. In her speech, she noted that prior to her diving into the jewelry industry, there was no one leading African jeweler that was managing the top leading companies on the continent. "I wanted to create jewellery that would honour that and the resources."
Making it big was not easy at all. She started off by asking mining companies to lend her stones to work with, which was something way out of the ordinary. However, almost a decade later, she is one of the most reputable jewelers in Africa. Her fine jewellery translates the jungles, rivers and culture of her homeland into "modern pieces that appeal to an international customer."
Fast-rising African brands can now receive expert advice and business support from Luxury Connect Africa, a luxury goods stable which can be compared to LVMH. It is the brainchild of Uche Pézard, an entrepreneur and business strategist. She is currently based in Paris and is on a mission to bring the best out of Africa by giving the continent the platform it needs to excel in the luxury business.
"There is a language of luxury that is Afrocentric and Afrocontinental," she explained. "It's not just about Africa [as a place], it's a culture that forms the base of a population of 1.4 billion people in 54 countries around the world. It's a consciousness that comes with being a black person, it's multi-layered."
Next year's Condé Nast International Luxury Conference in Cape Town will show how far South Africa has come.
International Vogue Editor Suzy Menkes invented the luxury conference concept in Paris, in 2000. The best-known fashion journalist in the world, Suzy now writes for 23 editions of Vogue online, in 16 different languages, reaching an audience of 67 million. She is also active on Instagram (@SuzyMenkesVogue), where she has over 370,000 followers.